Mentored Project Management Online Workshop
Sustainable Development Project Design, Funding & Management
Sustainable Project Design Aligned To The UN Sustainable Development Goals
A Six Month, Mentored, Sustainable Development Certificate Program
January 11 – July 15, 2022:
How to Raise More Money and Do More Good. Participate in this Private Mentored Program with Tim Magee
| | |
| --- | --- |
| How to Raise More Money and Do More Good. Participate in this Mentored Sustainable Development Project Design, Funding and Project Management Program with Tim Magee. | |
Great Project Design = New Funding + Increased Services

Design your next project to increase funding & impact.

Develop a winning, impact oriented project while learning to:

become your NGO's go-to solution for community challenges
enjoy increased funding for your projects
standout in an interview for a new job in the development world
get more done: less time—less stress
learn to manage Sustainable Development Projects
Who Should Join?
Advance your Career, Raise Funds, Solve Challenges

The program is for NGO staff and job-seekers wanting to successfully solve community challenges and learn Sustainable Development Project management, design and funding. Participants have worked on projects as diverse as disaster risk reduction, community development, education, the environment, and social justice—and decided to enroll in the program because they were:

building skill sets & visibility for a new development job or promotion
hoping to get more donors and boost donations with first-class donor communication
wanting to learn to develop Sustainable Development Projects that solve challenges
wanting to increase the impact of their projects
seeking time saving techniques for getting more done

What you will Do:
Design your own Solution-Oriented Project & Attract Donors

Train & consult with a private mentor. The mentored program provides cutting-edge information, time-saving templates, training and expert consultancy—and leads you in developing a real project for your organization. You will:

work with CSDi consultants in a 6-month intensive program
advance your career: design a winning project for your NGO
use evidence-based activities for solving community challenges
improve donor communications for increasing donations
facilitate meetings to connect with your beneficiaries and supporters
download time-saving templates for getting more done at work
Participant projects begin with engaging community members in a needs assessment and maintaining that engagement throughout the program. During this process, a problem is co-identified and research is conducted into evidence-based best practices for that particular challenge. This happens very early on the first course (101).
We then analyze which of the SDGs does the Challenge align with—and we try and work within that framework to begin project design and development. This lends an internationally accepted direction to the project—and can help to impact negotiations with potential donors.
In this certificate program the sustainable development principles begin with the Brundtland report ('meeting today's needs without compromising the ability of future generations to meet their needs) and progress through community engagement and evidence-based best practices for long-term sustainability of the solutions that course participants come up with. Aligning with the SDGs offers an international focus, credibility, and access to additional resources for project design, management—and funding.
| | |
| --- | --- |
| How to Raise More Money and Do More Good. Participate in this Mentored Sustainable Development Project Design, Funding and Project Management Program with Tim Magee. | |
"Tim and his online team are only an email away and based on my own experiences never failed to respond to my challenges, concerns, successes and queries. I know that my community members and I have benefited tremendously from our interaction with Tim and participation in the program. I do wish you continued success with your commitment and drive in providing excellent service, and valuable and practical knowledge." Gillian Primus
"Thank you so much, Tim – till the next course. It will be a pleasure to go out and demonstrate the elegant simplicity and effectiveness of your system. It was also my great fortune to have been partnered with Sam, thanks to Tim. I thank you for a wonderful learning experience together. Looking forward to another time as classmates or colleagues." Carol Wallace.
"Keep up the good work. I am very grateful for the opportunity I was offered to join the valuable online course six years ago. Due to the assignments related to the course I got in contact with different institutions/NGO's, communities and individuals. Since then I am involved in more community- based projects, especially with the focus on adaptation to climate change."
"All the very best and please feel free to contact me if you need any assistance from me." Usha Satnarain, MSc. Research-Assistant, Programme in Sustainable Management of Natural Resources. Suriname
| | |
| --- | --- |
| MORE INFORMATION: Just scroll down for complete, detailed information or use the links just below. | |
We take a non profit challenge you have identified. We start off by clearly describing the need—and then we develop project design and funding support documents and research donor possibilities. I supply easy to edit templates for each step—which you keep for developing future Sustainable Development Projects for your organization.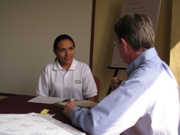 So this blended consulting and mentoring program is a combination of training, advising, and consulting. I will provide an experienced set of eyes and concrete feedback on your work. I will also show you tricks for working smarter and faster during the process.
The program will lead you through the development of a real project, in real time, and leave you with the practical tools to sustain it.
You will use contemporary methods of developing sustainable, impact oriented projects. You will gain practical field experience using evidence-based activities by developing a real project in real-time.
This mentored program on Sustainable Development Projects is designed in a progression where each weekly module represents one sequential step for you to take in the process of project design and development. Assignments have real tools for you to download, print out, edit, and use as templates over and over again in launching new initiatives. We will take approximately one month for each one of the following six, core steps:
A simple definition of a community could be a rural community of 150 people in Tanzania. Or Ecuador. Or India. One of your goals could be that in working with you, they will develop ownership of project outcomes—and will sustain them once your NGO has finished its grant cycle. Other examples of communities that you might work with:
The management tools developed in Step 3 will communicate to donors and stakeholders exactly what you are trying to accomplish and can be used for effective management of the project once funded.
I've created 20 sets of program templates (detailed step-by-step instructions and finished examples of each module for you to use) that you can download and customize to best fit your emerging project. 20 logical steps: No more writing from scratch—just edit and modify my templates to best fit your project.
"Thank you for all your effort in putting together a great program and all of the program resources. Thank you for everything – for making this possible, for your guidance, and for your continuous optimism and encouragement. I look forward to the opportunity to work with you again in the next session." Wye Yee Yong
"This program was absolutely awesome! The course content, instruction, example projects, on-line resources and the most valuable – your timely guidance on the assignments were all perfectly done." Burt Mento
"As you know, as a real beginner in designing projects, without your project example templates I could never have written even a single word by myself." Moise Tend
You can pay one simple payment of $1,200.00 for the whole 6 month program—or an initial payment of $400.00 and 5 monthly payments of $200.00. You choose.
It's easy to enroll in the online fundraising program. There are only two things to do: pay the $1,200 Nonprofit Fundraising program fee and fill out the Nonprofit Program Participant Information Sheet. The links are just below.
| | |
| --- | --- |
| How to Raise More Money and Do More Good. Participate in this Mentored Sustainable Development Project Design, Funding and Project Management Program with Tim Magee. | |
When you are ready to pay, click 'Add to Cart.' PayPal membership is not required; in the lower left you will see 'Don't have a PayPal account?' Click 'continue' and you will be linked to the credit card form for non-PayPal members.
We look forward to working with you in the Sustainable Development Project Management, Funding & Sustainable Impact Program. The application form is just below.
Sincerely,