Project Management Online Workshop
Sustainable Development Project Design, Funding & Management
Sustainable Project Design Aligned To The UN Sustainable Development Goals
A Six Month, Mentored, Sustainable Development Certificate Program
January 7, – June 30, 2020:
How to Raise More Money and Do More Good. Participate in this Private Mentored Program with Tim Magee
One-On-One Online Workshop. Work Smarter: Six Months to a More Focused, Organized You.
In this mentored training program, we will focus on one of your new Sustainable Development project concepts. You will learn to design a project to attract donor funding and how to manage your project for sustainable impact.
See the full syllabus
.
Quick overview of our 6-Month Mentored Training Program.
Here is a Video of the exciting process:
Great Project Design = New Funding + Increased Services

Design your next project to increase funding & impact.

Develop a winning, impact oriented project while learning to:

become your NGO's go-to solution for community challenges
enjoy increased funding for your projects
standout in an interview for a new job in the development world
get more done: less time—less stress
learn to manage Sustainable Development Projects
Who Should Join?
Advance your Career, Raise Funds, Solve Challenges

The program is for NGO staff and job-seekers wanting to successfully solve community challenges and learn Sustainable Development Project management, design and funding. Participants have worked on projects as diverse as disaster risk reduction, community development, education, the environment, and social justice—and decided to enroll in the program because they were:

building skill sets & visibility for a new development job or promotion
hoping to get more donors and boost donations with first-class donor communication
wanting to learn to develop Sustainable Development Projects that solve challenges
wanting to increase the impact of their projects
seeking time saving techniques for getting more done

What you will Do:
Design your own Solution-Oriented Project & Attract Donors

Train & consult with a private mentor. The mentored program provides cutting-edge information, time-saving templates, training and expert consultancy—and leads you in developing a real project for your organization. You will:

work with CSDi consultants in a 6-month intensive program
advance your career: design a winning project for your NGO
use evidence-based activities for solving community challenges
improve donor communications for increasing donations
facilitate meetings to connect with your beneficiaries and supporters
download time-saving templates for getting more done at work
Aligning Your Project to The UN Sustainable Development Goals
Participant projects begin with engaging community members in a needs assessment and maintaining that engagement throughout the program. During this process, a problem is co-identified and research is conducted into evidence-based best practices for that particular challenge. This happens very early on the first course (101).
We then analyze which of the SDGs does the Challenge align with—and we try and work within that framework to begin project design and development. This lends an internationally accepted direction to the project—and can help to impact negotiations with potential donors.
In this certificate program the sustainable development principles begin with the Brundtland report ('meeting today's needs without compromising the ability of future generations to meet their needs) and progress through community engagement and evidence-based best practices for long-term sustainability of the solutions that course participants come up with. Aligning with the SDGs offers an international focus, credibility, and access to additional resources for project design, management—and funding.
SUSTAINABLE DEVELOPMENT OR ADAPTATION? This program comes in two specialized tracks: Sustainable Development and Adaptation to Climate Change. Simply let your course mentor know your preference and they will set you up in the correct track.
This mentored training program had its origins in two certificate programs that we've been offering for 10 years. If you would like to see background information click here for the
Sustainable Development
track, and click here for the
Adaptation to Climate Change
track.
Quick Summary
Sustainable Development Project Management, Funding & Sustainable Impact.
A Six Month, Mentored Certificate Program for Development Professionals.
Are you a self starter? In this six-month mentored training we will look at designing a new Sustainable Development Project that will meet your NGO's mission and your clients' needs. It will present a compelling story to donors and provide project management tools to run it successfully: start to finish!
Bonus: This new project design can be used as a learning tool and a template for rejuvenating existing projects for greater successes.
First Three Months. In the first three months you will develop a project that fulfills your NGO's mission and that includes community input from a participatory needs assessment. You will research solutions to the special challenges in your project in order to refine your project's activities. You will also develop a set of management and presentation documents-such as a budget, logframe and a fact sheet for your donor communications.
Conduct a participatory needs assessment.
Design a project using best practice, evidence-based activities.
Develop project management documents.
Second Three Months. In the second three months you will package your compelling project concept and your donor documents for a donor presentation. You will then identify a potential donor and make an appointment to present it. You will learn how to launch, manage and develop long-term sustainability in your project.
Develop a presentation for donor communications.
Identify donors for your new presentations.
Learn how to launch and manage your project.
Build project impact through community engagement.
What Participants Say:
"Tim and his online team are only an email away and based on my own experiences never failed to respond to my challenges, concerns, successes and queries. I know that my community members and I have benefited tremendously from our interaction with Tim and participation in the program. I do wish you continued success with your commitment and drive in providing excellent service, and valuable and practical knowledge." Gillian Primus
"Thank you so much, Tim – till the next course. It will be a pleasure to go out and demonstrate the elegant simplicity and effectiveness of your system. It was also my great fortune to have been partnered with Sam, thanks to Tim. I thank you for a wonderful learning experience together. Looking forward to another time as classmates or colleagues." Carol Wallace.
"Keep up the good work. I am very grateful for the opportunity I was offered to join the valuable online course six years ago. Due to the assignments related to the course I got in contact with different institutions/NGO's, communities and individuals. Since then I am involved in more community- based projects, especially with the focus on adaptation to climate change."
"All the very best and please feel free to contact me if you need any assistance from me." Usha Satnarain, MSc. Research-Assistant, Programme in Sustainable Management of Natural Resources. Suriname
| | |
| --- | --- |
| MORE INFORMATION: Just scroll down for complete, detailed information or use the links just below. | |
Links to the Mentored Certificate Program:
Detailed Information: Sustainable Development Project Management, Funding & Impact
One-on-One Mentoring. In this mentor training program you and I will work together, one-on-one, for six months on a Sustainable Development challenge of your choice-and develop a real project that works to solve it—exactly as we do as Sustainable Development consultants. I supply easy to edit templates-which you keep for developing future projects for your organization. This mentored program will be customized for you and your NGO.
Training is great—but it's not enough.
We take a non profit challenge you have identified. We start off by clearly describing the need—and then we develop project design and funding support documents and research donor possibilities. I supply easy to edit templates for each step—which you keep for developing future Sustainable Development Projects for your organization.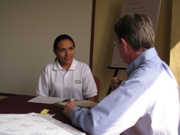 So this blended consulting and mentoring program is a combination of training, advising, and consulting. I will provide an experienced set of eyes and concrete feedback on your work. I will also show you tricks for working smarter and faster during the process.
The program will lead you through the development of a real project, in real time, and leave you with the practical tools to sustain it.
You will use contemporary methods of developing sustainable, impact oriented projects. You will gain practical field experience using evidence-based activities by developing a real project in real-time.
Syllabus: The step by step process.
This mentored program on Sustainable Development Projects is designed in a progression where each weekly module represents one sequential step for you to take in the process of project design and development. Assignments have real tools for you to download, print out, edit, and use as templates over and over again in launching new initiatives. We will take approximately one month for each one of the following six, core steps:
Your Community. Defining and Choosing a Community to Work With.
Month 1. Clearly, and in a simple fashion define the community you hope to work with, the type of challenge you plan on solving, and what project you're hoping to develop to solve it. You will set up a workshop with community members to conduct a participatory needs assessment next month.
What is a Community?
A simple definition of a community could be a rural community of 150 people in Tanzania. Or Ecuador. Or India. One of your goals could be that in working with you, they will develop ownership of project outcomes—and will sustain them once your NGO has finished its grant cycle. Other examples of communities that you might work with:
For an environmental project you might work with a community of scientists or environmentalists—or a community of farmers benefiting from ecosystem services on a restoration project.
In a food and nutrition project you might work with a nutritionist and with a food insecure community to better understand their nutritional needs.
For a disaster risk reduction you might work with a specialist and community members of a small village adjacent to a river that floods.
For a community development project you might work with a group of involved citizens who wish to revitalize a small town or village.
In increasing agricultural access to farmers' markets—you might work with a group of small farmers—and with the local government in the town where you live.
Your Plan. Problem Identification.
Month 2. Conduct a participatory needs assessment with your community to identify challenges—and develop a simple and straightforward project outline complete with a clearly defined problem statement, underlying causes, solution oriented activities, and project goals. This process will embed positive impact and sustainability into your project. You will research evidenced based solutions and activities for your challenge and prepare a detailed project outline.
Your Tools. Powerful Management Tools to Engage Donors and Run projects
Month 3. Embed impact into your project design with a powerful set of Sustainable Development project management tools. Log frames, detailed budgets, timelines, a project description, compelling fact sheets, M&E plans, outcome and impact statements and a project fact sheet (Letter of Inquiry).
What you will accomplish in the first three months of the program:
RESULTS: By the end of the first three months of the mentored program on you will have designed and developed a real project based upon real need determined with input from your constituents and colleagues. You will have incorporated initial feedback from both community members and a donor into your project's development. You will have developed management documents for presentation to your donor base.
Fully Customized Second Quarter. In the second three month period you will customize the project's direction to best fit your community's needs, your organizational context, and donor interests.
Your Communication. Learn How To Attract Sustainable Development Donors.
Month 4. Clearly define which donors are best for you. The donors may be individuals who are already making contributions to your organization inspired by your email newsletters and by the donor pages on your website (full of compelling stories!). They may also be private foundations and government funding agencies. In either case, I will help you clearly define the donors and identify and write compelling stories for them.
The management tools developed in Step 3 will communicate to donors and stakeholders exactly what you are trying to accomplish and can be used for effective management of the project once funded.
For individual donors: We'll tune up your blog postings and newsletter to capture donor imagination—and make sure your nonprofit donation page is effective and easy to use.
You will update your blog with new posts describing your project's design progress—and you will send out the first of several email newsletters with
compelling stories
about your community members. I'll show you how to do all of this.
For foundation donors: This is not a grant writing course—however, you will be able to use the materials from Step 3 for grant development in order to meet donor requirements. If applicable, you will actually select a foundation and submit a Letter of Inquiry.
Your Team. Your team may include community members, clients, staff and volunteers.
Month 5. While waiting for the funding to roll in, you will select a series of no-cost/low-cost activities from your project outline which will develop ownership within the community and officially launch the project.
You will learn how to harness community and volunteer support through setting up a co-management committee for one of your project's activities. Previous course participants have developed international projects using over
270 different kinds of activities
.
Your Launch.
Month 6. You will launch your first no cost/low cost project activity within the community using templates of workshop plans that I provide—and learn:
How to best launch and manage Sustainable Development Projects.
The importance of community engagement and project co-management.
How to teach skill sets to your community members to use in the activity.
About the learning tools of monitoring & evaluation.
About community empowerment through sustainability, follow-up & mentoring.
How to design and lead a capacity building workshop.
RESULTS: In the Second Quarter of the Sustainable Development Project Program You Will
Clearly define which donors are best for you: individuals visiting your website or private foundations and government institutions.
Develop skill sets in how to raise money for a Sustainable Development Project.
Tune up your blog post and newsletter to capture donor imagination.
Make sure your donation page is effective and simple to use.
If applicable, explore different ways to identify foundation donors and select one which is appropriate for your organization.
Using the information that you developed about your project, edit a letter of inquiry targeted to a specific foundation.
While waiting for funding to roll in, set up a community co-management committee for one of your projects.
Launch a project activity called out in your project design with volunteers, and community members.
10 People Only. This mentored training program is limited to 10 people. We will have weekly communication through my advice and comments on your weekly assignment modules. I will also respond to quick questions that you send me.
If one of the tracks below fulfills organizational need, then this mentored training program is for you.
New project. Design a fundable, sustainable, impact oriented program from scratch.
Pre-launch. Fine-tune a project you are about to launch to increase its manageability, its impact, and its sustainability.
Sustainable Development Projects in process. Get a current project with challenges back on track and increase its impact.
Write Faster to Save Time
I've created 20 sets of program templates (detailed step-by-step instructions and finished examples of each module for you to use) that you can download and customize to best fit your emerging project. 20 logical steps: No more writing from scratch—just edit and modify my templates to best fit your project.
Testimonials
"Thank you for all your effort in putting together a great program and all of the program resources. Thank you for everything – for making this possible, for your guidance, and for your continuous optimism and encouragement. I look forward to the opportunity to work with you again in the next session." Wye Yee Yong
"This program was absolutely awesome! The course content, instruction, example projects, on-line resources and the most valuable – your timely guidance on the assignments were all perfectly done." Burt Mento
"As you know, as a real beginner in designing projects, without your project example templates I could never have written even a single word by myself." Moise Tend
How to Enroll in this Mentored Training Program
Program Fees: $1,200.00. Normally, when we work with an individual organization on a program as expansive as this—we might be looking at a hefty consulting fee. But, the Center has organized this mentored training program so that it is much more affordable: you will simply pay $1,200. This will cover the six month program, your coach and mentor, and the 20 template kits and downloadable resources. There are no other expenses.
Payment Options
You can pay one simple payment of $1,200.00 for the whole 6 month program—or an initial payment of $400.00 and 5 monthly payments of $200.00. You choose.
Two simple steps and you're in!
It's easy to enroll in the online fundraising program. There are only two things to do: pay the $1,200 Nonprofit Fundraising program fee and fill out the Nonprofit Program Participant Information Sheet. The links are just below.
Shopping Cart for single $1,200.00 payment.
You can pay here with a credit or debit card.
When you are ready to pay, click 'Add to Cart.' PayPal membership is not required; in the lower left you will see 'Don't have a PayPal account?' Click 'continue' and you will be linked to the credit card form for non-PayPal members.
Shopping cart for $400.00 initial payment and $200.00 monthly payments.
You can pay here with a credit or debit card.
When you are ready to pay, click 'Add to Cart.' PayPal membership is not required; in the lower left you will see 'Don't have a PayPal account?' Click 'continue' and you will be linked to the credit card form for non-PayPal members.
We look forward to working with you in the Sustainable Development Project Management, Funding & Sustainable Impact Program. The application form is just below.
Sincerely,
Tim Magee
Executive Director
Center for Sustainable Development